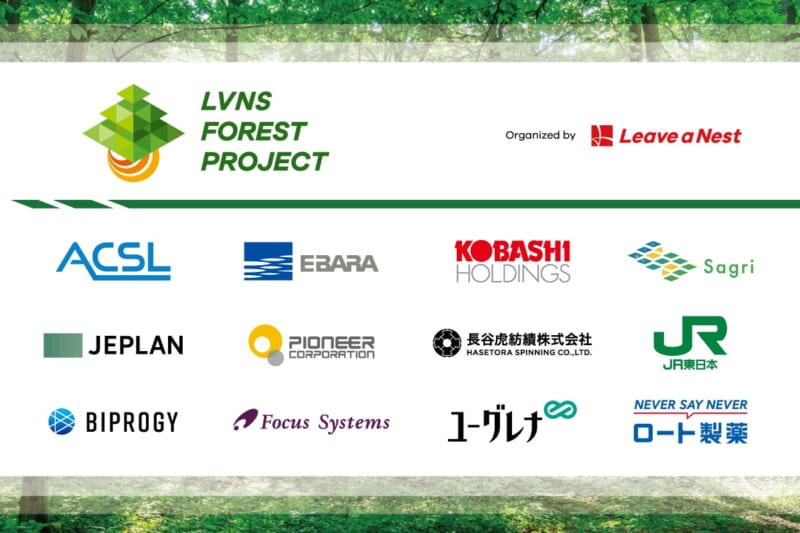 Leave a Nest(Representative Director and Group CEO: Yukihiro Maru), with the participation of 12 Japanese companies, has launched the "Leave a Nest Forest Project," a demonstration project aimed at forest restoration and effective use of resources, and will hold a press conference on Friday, March 3.
Since the Industrial Revolution, humans have been cutting down and neglecting forests, resulting in a steady decline in the world's forest area, which is said to have decreased by more than 5 million hectares over the past five years. In order to solve this problem, a sustainable social system that builds social life while nurturing forests and effectively utilizing the ecosystems and resources such as fruit trees and timber that are created there is needed.
Therefore, the Leave a Nest Group, together with 12 like-minded Japanese companies, launched the "Leave a Nest Forest Project" with 12 Japanese companies with high aspirations. As the first phase of this project, we will start a demonstration experiment to restore the devastated forests in the Philippines from March 11, 2023, in collaboration with Galansiyang Inc.
Using Philippine forests as a demonstration site, Galansiyang, its Japanese partner companies, and university researchers will launch projects such as the development of seed balls and drones, soil improvement methods, and verification of germination methods, to systematize the reforestation mechanism. In addition to the Philippines, we will also promote the expansion of the project to other countries that are facing forestry issues.
A press conference will be held on March 3 (Fri.) with Leave a Nest, 12 participating companies, and Galansiyang.
Click here to apply for coverage: Application Form 
・Summary of the event
Date & Time: Friday, March 3, 2023, 12:00pm-1:00pm
Place: Kudan Kaikan Terrace Conference & Banquet
Address: 1-6-5 Kudan-Minami, Chiyoda-ku, Tokyo 102-0074, Japan