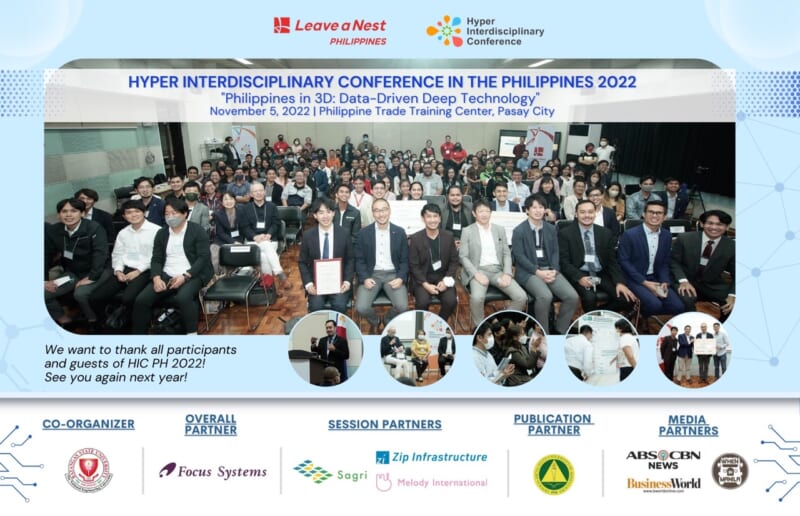 On November 5, 2022, the 3rd Hyper Interdisciplinary Conference  Philippines was successfully held at the Philippine Trade and Training Center in Pasay City, Philippines. The conference, themed "3D in the Philippines: Data-Driven Deep Technology," was the first face-to-face event conducted by Leave a Nest Philippines. The event attracted 183 participants from industry, academia, and government.
This year's program included sessions on the integration of deep technologies in healthcare, forestry, and energy with information technologies such as data science and artificial intelligence, which are expected to lead to various collaborations and projects for social implementation.
Integration of data science into forestry was one of the themes addressed at the conference. Sessions included Galansiyang Inc, a startup that uses drones and seed balls for reforestation, Sagri Corporation, a Japanese startup that analyzes satellite images, and the Center for Conservation Innovation Ph Dr. Coroza spoke at the event. It was discussed that Sagri's satellite image analysis technology is important for Galansiyang's sustained drone tree planting efforts, and that their combination could be a solution to several problems related to reforestation in the Philippines.
Finally, the collaboration between the Department of Environment and Natural Resources, Galansiyang Inc. and Leave a Nest. was declared to be a collaborative effort to sustainably protect the forests of the Philippines.