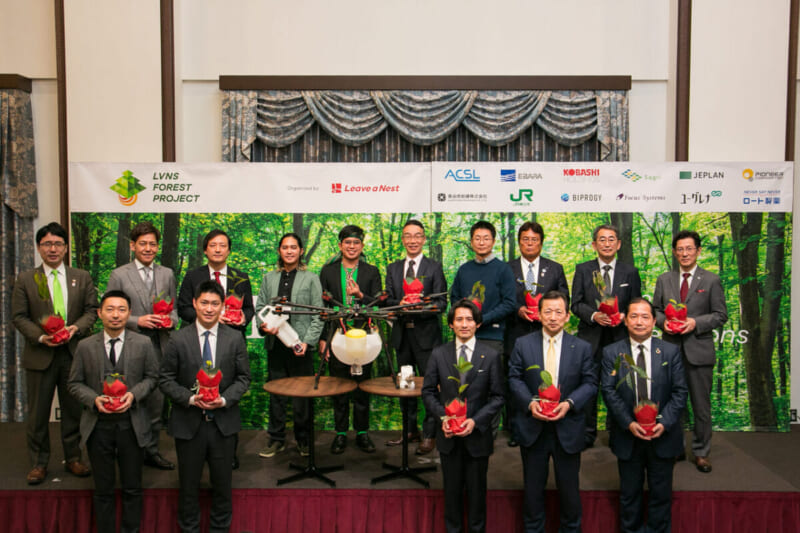 Leave a Nest (Head Office: Shinjuku-ku, Tokyo; Group CEO: Yukihiro Maru) along with 12 representatives from various Japanese companies launched the "LVNS Forest Project"– a project aiming to create a future where humanity and the forest are in coexistence. The launch ceremony was held on March 3rd 2023, from 12:00-13:00 at the Tokyo Conference of the Association for Transdisciplinary Research in Science and Technology.
LVNS Forest Project press release is here:
https://forest.lne.st/en-news/227/
At the presentation, Mr. Yukihiro Maru, Representative Director and Group CEO of Leave a Nest Co., Ltd, gave a speech on the significance and the vision of the LVNS Forest Project. The 12 participating corporate representatives shared their thoughts on what they hope to achieve through the project.
Creating a society where forests and people coexist in harmony
Yukihiro Maru, Representative Director and Group CEO, Leave a Nest Co. Ltd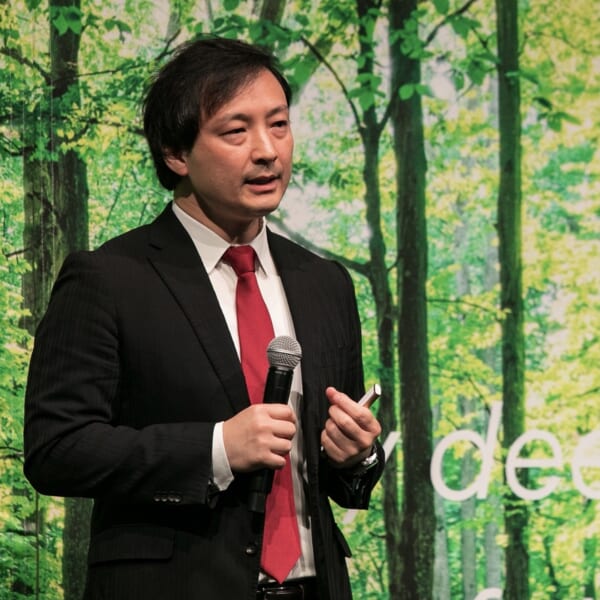 "What we at Leave a Nest are about to start is not simply a business of CO2 fixation. Our vision is much larger than that, where it's about showing that when the forest and people are living symbiotically, a rich earth is cultivated.
Since Leave a Nest's inception 20 years ago, based on our philosophy to "contribute to the planet through the development of technology", we launched a project to "create a society where forests and people coexist".
With subsidiaries all over the world in Southeast Asia, U.S., and the U.K., Leave a Nest has created events such as the Hyper-interdisciplinary conference involving middle and high school students, researchers, governments, startups, corporations to form a knowledge platform horizontally across multiple groups. Until now, most companies have been fixated on how to beat the competition or how to increase their own sales and profits. This is the same even in academia, which is why I founded Leave a Nest 20 years ago, to embody the concept of co-creation. Through the four pillars of education, human resources, research, and foundation, we have created a knowledge platform where people are nurtured, research and development are cultivated, which are then sent into the real world to make the world a better place.
How things will change from this moment, is that we will shift the paradigm from Knowledge Based Platform to a Knowledge Manufacturing Platform, where it will be ourselves who will create and deliver the fruits of research and innovation to the actual sites and resolve the issues. Nothing will change by simply gathering people at conferences. Someone has to be the leader, to take the risk, and make it happen. We are now declaring that we will do this for the next 20 years to change the world, and today marks the start to the first of these projects.
In 2019, I published a book called "Deep Tech". It portrays the concept that no problem can be solved by one technology. We may get much closer to solving the problem if we combine various technologies. There are especially many deep issues in Southeast Asia, whiere deforestation is one of the most pressing issues. We are now trying to solve those issues with the collective technologies and knowledge that we have gathered.
It is a very unfortunate fact that while there are issues which we must confront, such as deteriorating ecosystems, marine resources, forests, and natural disasters, some companies are still pursuing their own profits. We were compelled to create the next earth even after 10 or 20 years from now based on a completely different concept from the past. And when we asked people to join us in this 20 year project, we gathered a team of 12 highly motivated and brilliant people.
Messages from the 12 corporate representatives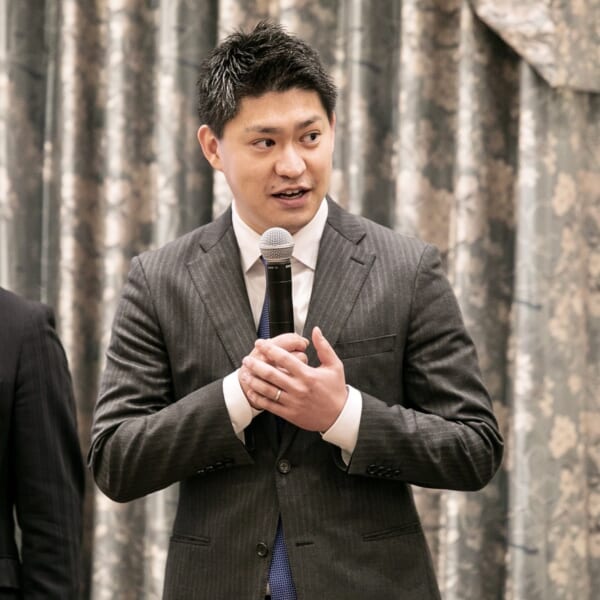 ACSL Representative Director, President,Satoshi Washiya
ACSL listed on the market in 2018 as a drone company. Drones and deep technology are universal, just as birds fly across borders without being bound by words or languages. We believe it is the responsibility of our generation to create not only a sustainable world for future generations, but to generate the tools and systems that will enable the sustainable society. We are happy to be able to launch reforestation initiatives in the Philippines and elsewhere through this project.
---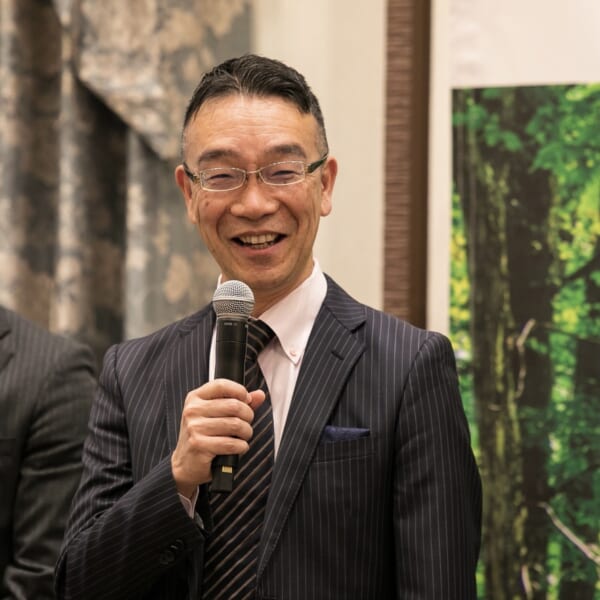 Ebara Corporation Marketing Division, Division Executive, Kazunori Suda
Ebara started as a pump manufacturing company in 1912. We are committed to realizing a safe, secure, and prosperous society, valuing the challenger's grit that is embodied in our founding spirit of "Passion and Dedication". This project is the start of a groundbreaking initiative to increase carbon sinks and further water resources and biodiversity. With the keyword "Global Happiness" from Maru CEO, we will work together with the 12 partner companies toward a new stage of the project, and you can expect great results in the future.
---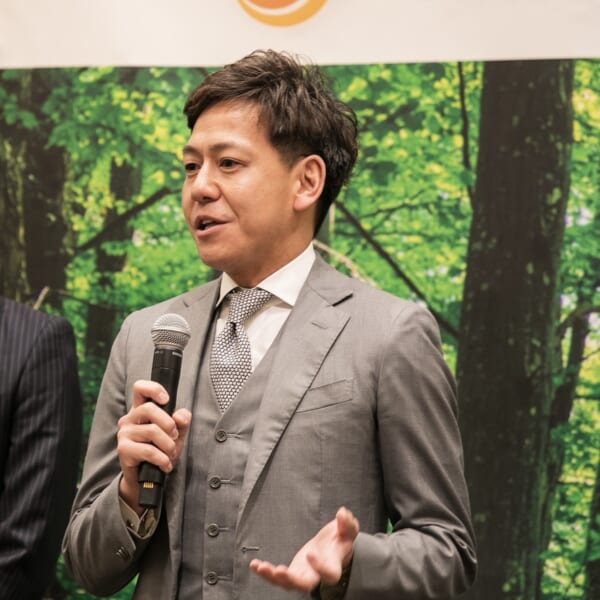 KOBASHI HOLDINGS CO., LTD President&CEO, Shojiro Kobashi
KOBASHI HOLDINGS CO., LTD is an agricultural machinery manufacturer founded in 1910. Over 100 years we have cultivated farmland. However we are now entering an era where it is not only farmland that is cultivated, but the sky with drones, and the forest to seek new possibilities. We joined this project from our commitment to make the earth a better place through our manufacturing capabilities.
---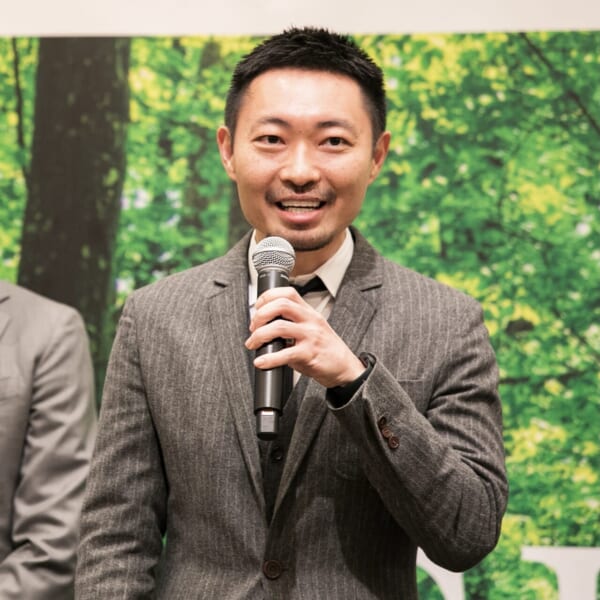 Sagri Co., Ltd, COO, Shu Masuda
We are a startup using AI to analyze satellite data for agricultural use. Through Sagri, we issue carbon credit in India and Thailand, which we can use to minimize the negative impacts of climate change. We think that we can contribute to this project by analyzing the seedling growth of the vegetation using satellite data. We've recently established a Singapore subsidiary as a hub for our activities in Southeast Asia, so we are excited to be part of the project.
---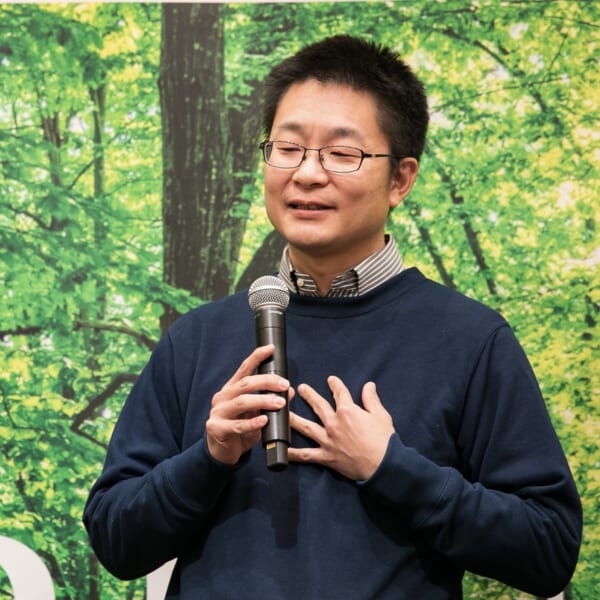 JEPLAN, INC, CEO, Masaki Takao
What I'm wearing now is clothes made from our recycling technology. Using our technology, we can reduce carbon emissions by 49%, but I've always wondered "is that enough?". What should be the true goal is carbon neutrality. We cannot do this alone, as recycling requires vast amounts of gas and electricity which we must sequester. This is when I heard about the project. Our goal is to create a world where wearing one of our clothes will make a carbon neutral world.From combining our solution with the project, I believe we can realize a carbon neutral world.
---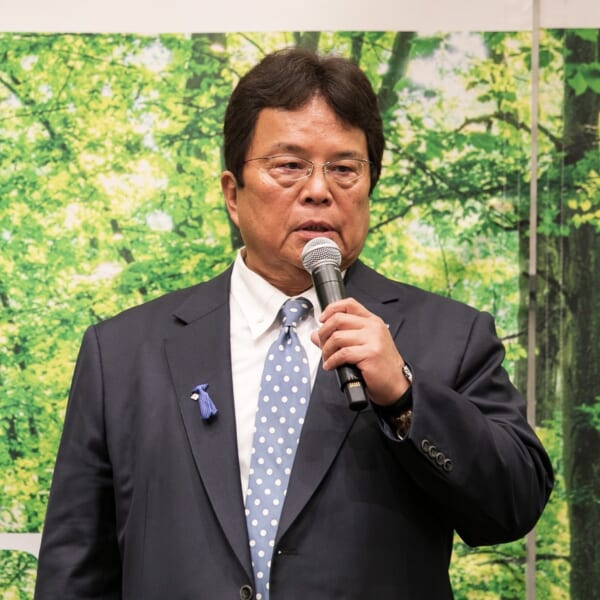 Pioneer Corporation Co., Ltd, President, Kubo Tomoshiro
For about 10 years, Japan has had a stockpile of Japanese cedar. To make effective use of these resources, we are working with Sumitomo Forestry on a project to promote the production of products using 105mm Japanese cedar wood, which is a common pillar size. We are supporting the project from the aspect of manufacturing which is our specialty. Due to the recent outbreak of the novel coronavirus, we were not able to proceed with the project as we had hoped, and then we were told about the LVNS Forest Project. We would like to demonstrate our strength in the development of applications and products for forest trees, and create a circular system for the earth's resources.
---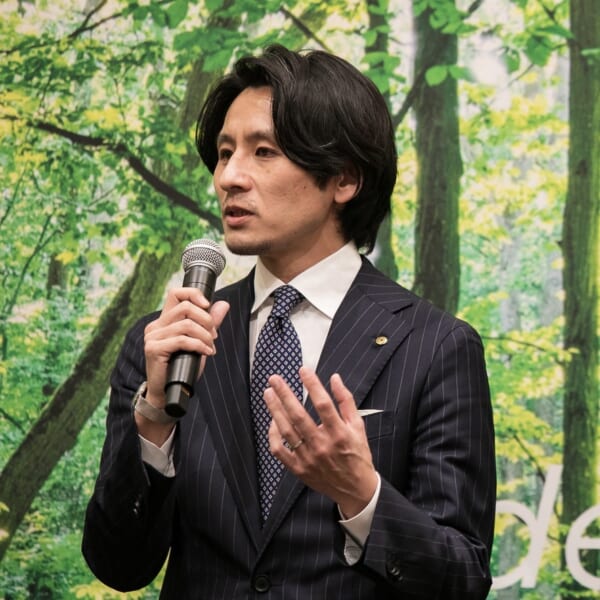 Hasetora Spinning Co., Ltd, President, Takaharu Hase
We have been in business for 136 years, since 1887. During that time, we have always been involved in the textile industry. The reason why we have been in business for such a long time is not because we have just been making things, but because we have always had the spirit of doing what is needed in the world and solving social issues at the foundation of our company. We decided to participate in this project right away. We decided to participate in this project right away because through this we can solve a larger social issue. This technology has the potential to have a great impact not only on forests in the Philippines, but also on forests around the world, and not only on forests but also on agriculture. We are developing various functional materials through textiles, but 98% of the spinning facilities have been lost in Japan. Now is the time to utilize these fiber materials and make a big change in the world from Japanese textiles.
---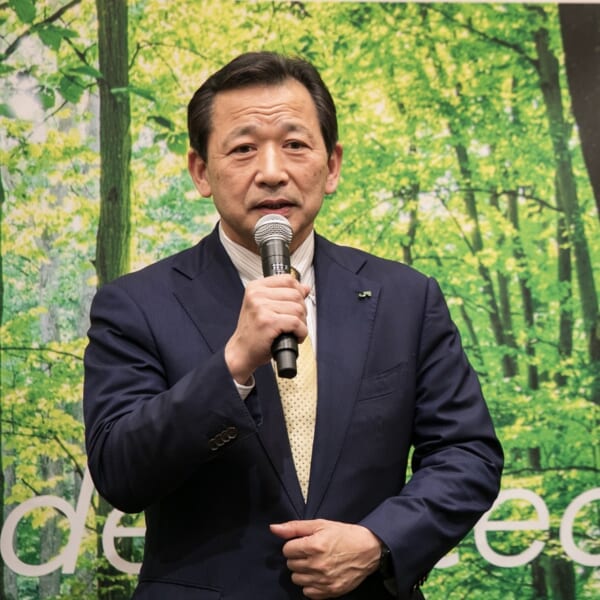 East Japan Railway Company, Managing Executive Officer, Marketing Deputy General Manager, Teruyuki Omote
As of October last year, JR East celebrated its 150th anniversary. For 150 years we have been regarded as one of the safest and most reliable railway networks in the world which is the result of the expertise and effort of our people for a long time. This year marks the first step towards our next 150 years. In order to be loved by the people150 years from now. One such challenge is the "Takanawa Gateway City," an urban development project that will solve global issues for a fulfilled life a century into the future. In a future full of dreams and hopes, CO2 emissions are an enormous challenge. This project aims to not just resolve this, but create cities while sequestering carbon, which is why I joined the project to contribute to this planetary-scale issue. Let us make an Earth where our descendants can live in ease.
---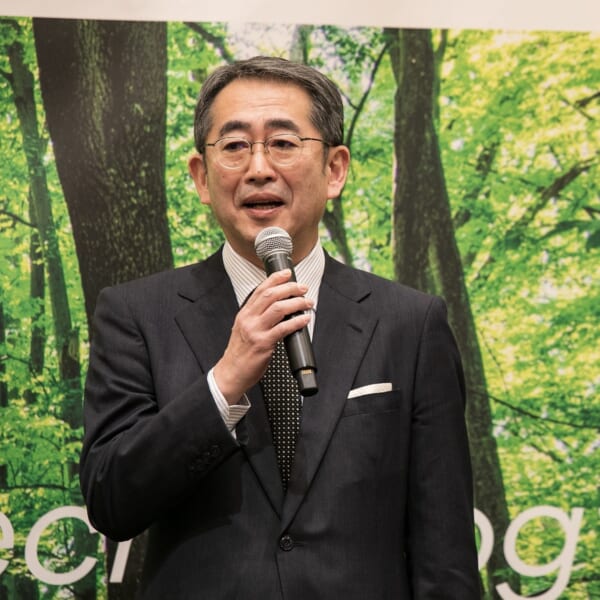 BIPROGY Inc, Representative Director, President & CEO, CHO,Akiyoshi Hiraoka
We changed our company name to BIPROGY last April, which takes the first letters of the 7 colors of light. The motive behind this is to extract the potential of technology and to make an everlasting story for the planet. To make such a world happen, we need innovation and diversity, which is expressed through the seven lights. Although this project is also an unknown quantity, we participated in it because we believe that one of the diversities is to do it with the intention of being tricked. We have already established a company to create a system to promote the distribution of domestic timber in order to enrich Japan's forest resources. We have also created a system to visualize forest productivity and environmental conservation. Together with all of you who are united in our aspirations, we will prove that continued deception leads to good results.
---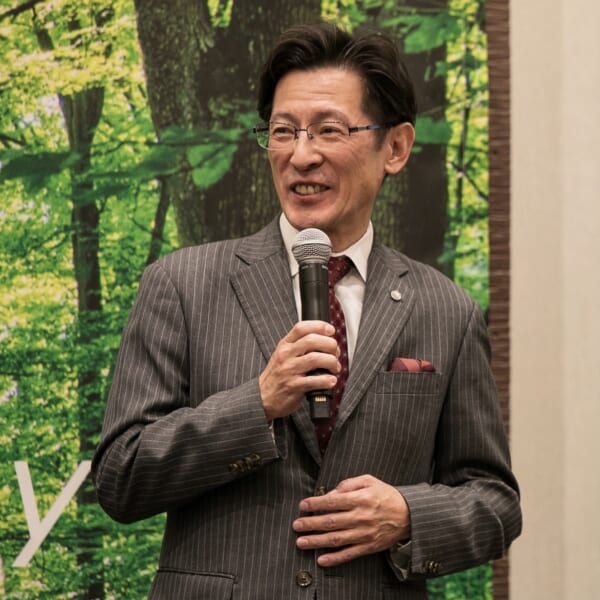 Focus Systems, President and Representative Director, Keiichi Mori
Forest in Japanese is "Mori". The moment I was born, I have always been close to Mori, my last name, and probably for a while more. Thus this project feels very close to me. We are an IT company. While IT is not so flashy, we provide technologies that are vital to society. Using the expertise of IT, we are excited to be part of protecting the forest and to be part of the solutions towards the global challenges.
---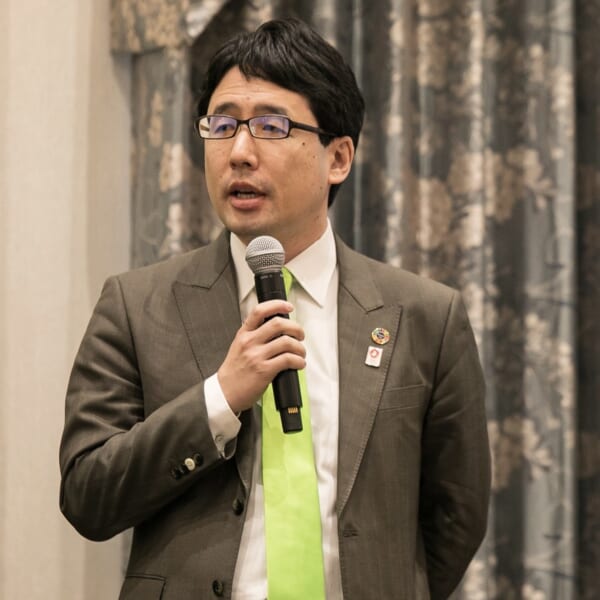 Euglena Co., Ltd, Founder and President, Mitsuru Izumo
Today, I'd like to say a few words on behalf of the Japanese entrepreneurs. I started Euglena from my first hand experience of seeing malnutrition in Bangladesh. Maru CEO has been supportive of Euglena since its founding in 2005, I sincerely thanks to Maru CEO for supporting one Japanese entrepreneur, that is myself, longer than anyone else. By participating in this project, we hope to deploy Japanese technology to solve social issues in Southeast Asia and give back to entrepreneurs in Japan and abroad.
---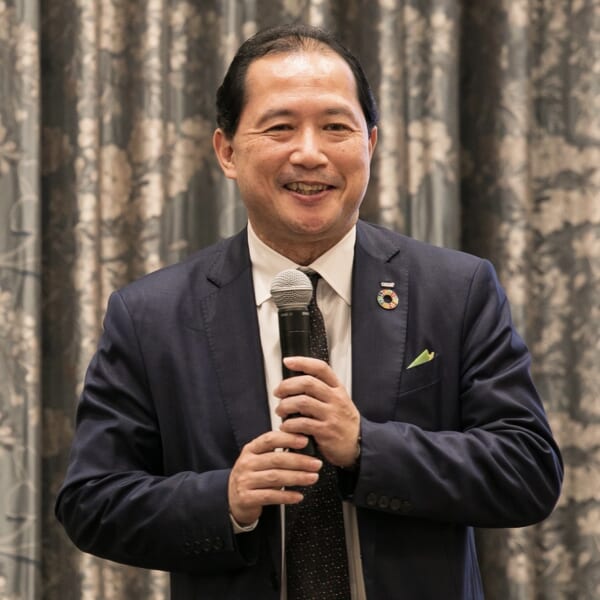 Rohto Pharmaceutical Co., Ltd, CCO, Atsushi Hiyama
From our vision to realize a "well-being" society, we have been working in the food and recycling-based agriculture industry besides healthcare. What I've learnt as I do business, is that it is not enough to simply make and circulate products. I really feel that we cannot achieve true well-being unless we can create "a cycle that includes the local society and environment". In this respect, I feel a great deal of sympathy for this project and have decided to participate in it. Building on the point made earlier about continuously being tricked, in games there's a saying of "if you try until you win, you win", meaning as long as you believe and keep trying, there will definitely be a result. The twelve people here today are people with those ambitions. Let us embark on this journey together.
---
Dr Maru, Group CEO of Leave a Nest. Co., talked about the first project to be trialed in the Philippines.
Launching in the Philippines
Yukihiro Maru, Representative Director and Group CEO, Leave a Nest Co.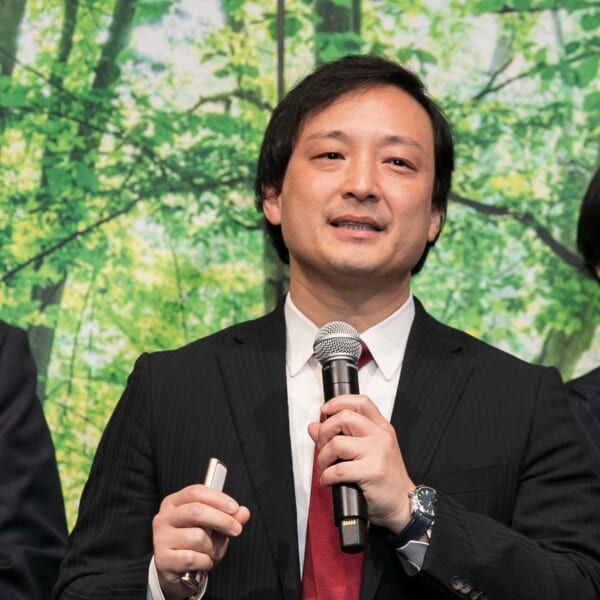 The global area of the forest is ever decreasing. There's actually quite a number of people planting trees yet it is outpaced by the rate of destruction, thus the area is ever decreasing. This is the harsh reality, but I think humanity is turning a blind eye. We derive so much more than wood from the action of deforestation, such as mining for metals. As these mines are created to create the smartphone you possess, you are undeniably guilty in contributing to the destruction to some extent. But will you stop buying electronics, will we stop the development of technology and research? No.
Then there are no other option but to use technology to increase the rate of reforestation. But spending to plant trees would be unsustainable, so the question is how do we create the system in such a way that the local population will naturally want to plant trees.
The startup who gave me the idea was Galansiyang from the Philippines where their business involves the local population creating mud balls with a seed embedded, and these are distributed to reforest the land using drones. It was a simple idea born in a rural part of the Philippines, but it was their passion that even if they don't have access to technology, money nor people, they will continue to try, which started this project. 100 years ago, there were 21 million hectares of forest which is now 600 hectares. We have to bring innovation from Japan and use it as reforestation technology. 40 years ago, Japan was also a barren land from the deforestation that took place at an unprecedented pace. However Japan is restoring its greenery again from the solutions that the forestry researchers have come up with. Through education, we know that the forest enriches our lives, such as that when there's an ecosystem, the animal ecosystem also grows.
However in the Philippines, there is no such education. When we pursue planting profitable trees, we only think in a timespan across just 10 or 20 years. Also, since seed balls are an important biomaterial, could they be made from bio-residues from local agriculture? Euglena is also researching biofertilizers, and so it is possible that the forests could be formed more quickly by introducing such new technologies.
With this presentation today, we will go to Mindanao Island in the Philippines in March to discuss with the Forestry Agency about a demonstration experiment using a 100 ha demonstration site. First, we will plant durian, jackfruit, mangosteen, and other fruit trees and let the local residents use the fruits as a business where it developed as a new food tech, such as fruit meat as an alternative protein source, rather than just selling the fruit. The project will first bring revenue to the community and then we can progress to plant trees that can be used as building materials and other profitable trees. Finally, Sagri's satellite data analysis technology will be used to obtain monitoring data on CO2 fixation and biodiversity restoration. Through these activities, we have launched our team with the vision of a world in which rich forests and people can coexist in harmony. Until now, many people have lived in a world where urban and forest are completely detached. As environmental issues came to light, the idea was to spend money to plant trees because there was no choice. However, we aim to enrich the earth with the idea that forests and towns become one with nature, and not the other way around.
Let's accelerate knowledge manufacturing toward a society where forests and people coexist. The Leave a Nest Forest Project aims to do this by including students, academics, large corporations, small and medium-sized enterprises, and startups.

Gifting of Saplings
The samplings of durian, magosteen, jackfruits which are authentic to the Philippines were gifted to each of the project members by the middle and high school research students participating in the HIC.

Finally, there was a speech by Jay, CEO of GALANSIYANG Inc., the partner startups for the reforestation project in the Philippines.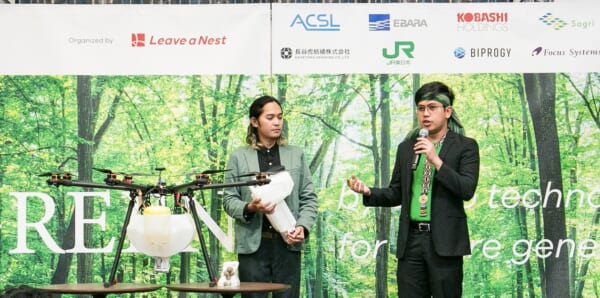 "In 2012 our village was struck by a destructive typhoon killing thousands of people of which at least 300 people are still missing to this day. Last Christmas Eve, we were struck by another typhoon, flooding half of Mindanau, which displaced many people and destroyed their livelihood. This is all the effect of climate change and deforestation.How our project came about was that Joshua and I were making drones from scratch from our highschool days, and thought why don't we utilize drones to help our environment and community itself. So we started doing social campaigns, visiting tribal communities, prisons, elderly homes, and realized that the concept of reforestation through drones was a community-based concept where anyone from the individual level to B-corps, governments, and corporations could be engaged in.
To the 12 apostles, thank you for helping us advance our project with your technology and support."